Quality, Cost & Delivery (QCD)
BWI commits to provide valuable clients services satisfying criteria in three dimensions simultaneously: QUALITY, COST and DELIVERY (QCD).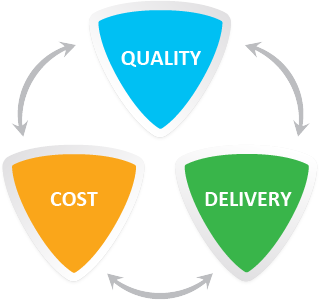 Quality
is the attribute expected by client that renders the service.
Cost
refers to the appropriate resource required to undertake the service.
Delivery
involves distributing completed service to client in a timely manner.
We are aware that these three above dimensions are three pivots engendering overall satisfaction and content of our clients.
In order to fulfill this task, we have developed Key Performance Indicators for all administrative and technical procedures so that all of our staff, including business development executives, research analysts and managers to understand how our job is performing and how to improve it continuously and proactively to meet QCD criteria.
What is
research
but a blind date
with knowledge?